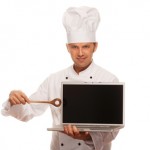 PromoKitchen is a site that relies on the wisdom, insight and experience of its community to create exceptional content. If you have a topic you want to write, a video you want to share or if you want to participate in the podcast, please read our editorial guidelines below and then fill out our submission form and we'll be in touch.
Keep in mind, the PromoKitchen community is comprised of distributors, suppliers, multi-line reps and many other service providers that contribute to the multi-billion dollar promotional products industry. Our purpose at PromoKitchen is to mentor young professionals entering our industry and also to make each other sharper as we improve our respective businesses and the industry as a whole. We are looking for rich content that speaks directly to the challenges and opportunities before us.
Examples of topics we are looking for:
Growing your business
Advances in technology and how it makes your business more profitable, operational software you use, smartphone/tablet integration/development
How to enrich distributor/supplier relationships
Marketing innovation and successful marketing strategies
Improving the image of the promotional products industry
How to be more creative, how to develop your creative muscle
Operational improvements, safety compliance, management (motivating employees, sample management, cashflow, financing, collections)
Productivity: working smarter, digital tools, physical tools, organizational tips, client/project management
Sales: how to drive the top line, how to spot business opportunities, prospecting tips, business develop tools, sales goals
Program management, importing/exporting
Stories: how you grew your distributorship/supplier/service business, changes you've made in your business that have made you more successful, lessons learned
Topics/posts we do not accept and tips to get published:

No product specific topics or "selling" in general
No negative rants about specific suppliers, distributors, service providers, etc.
101 posts: though we feel strongly about mentorship,

the PK site is not a 101 site

, you should assume your reader knows this business well
Clarion calls to "change the industry" (We know the industry needs to change. At PromoKitchen, we are trying to

be the change

and are interested in how you are changing the industry!)
Readers are looking for helpful how-to's
Recycled content: approximately 20% of the content we post is recycled from other blogs, so feel free to share. Much more important however, our goal is to achieve 80%

original content

.
Photos: if you want a fast track to publication on the site, provide a super-cool photo along with some stellar copy
Thick skin required. We need and appreciate those interested in sharing content. However, if content has been used previously or the content is not strong, we will ask that you revise and give it another shot.
Important!

We welcome your blogpost and involvement in PK (and are excited about your potential involvement in the community!). However, submitting a blogpost or participating in a podcast is not what earns chef status. We have several fine chefs and sous chefs involved in PromoKitchen who have contributed either their sweat equity, personal equity or (in some cases) literal equity to create and keep PromoKitchen running. To become a chef we are asking for a commitment: a minimum of three original, high quality posts to gain your apron + a minimum of one fresh blogpost each quarter to maintain chef status. It's a high bar that will require a commitment. As you can see, our goal is to attract the crème de la crème of the industry in terms of chefs and followership. We encourage you to start by contributing one or two articles. But in order to earn your apron (i.e., bio on the site), we hope you'll consider investing in a broader menu. Also, please remember, this is a volunteer organization. The editors and associates at PK are in the trenches (along with you) running businesses. Their commitment to PK consists primarily of their personal time. Please be patient if you experience a delay in communication or posting. Thank you for your interest and for joining us.
Allez Cuisine!
Comments
comments